Izuma Edge
It is estimated that through 2020, 90% of IoT solutions will use some form of IoT gateway. These solutions come with their own challenges, such as connecting legacy and other devices, the drawbacks of computing at the cloud and security risks. Izuma Edge meets those needs by offering local gateway management, device management for multiple protocols and edge computing. When you combine Izuma Edge with the rest of the Izuma ecosystem, you can use the resulting end-to-end solution from onboarding devices to device management to data collection and management. Izuma Edge is a critical piece of that solution.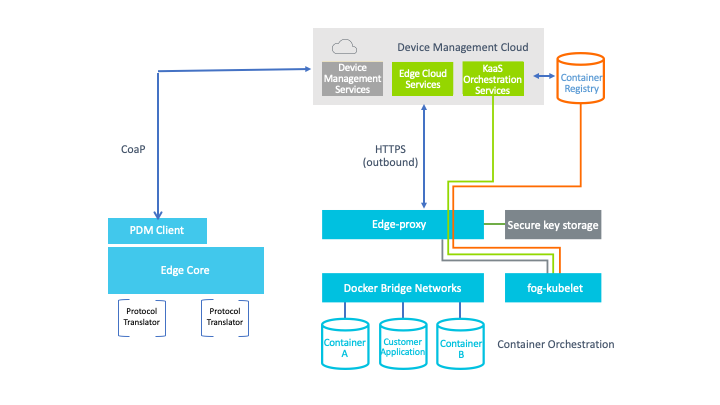 Izuma Edge
Fundamental building blocks
Three fundamental building blocks comprise Izuma Edge:
Edge devices management.
Edge systems management.
Edge applications (container orchestration).
Edge devices management (including protocol translation for IoT endpoints): Customers come to us to solve the problem of legacy devices in existing infrastructures. Sometimes, these devices use communication protocols that are incompatible with internet protocols (IP), such as BLE, Zigbee, Z-Wave, BACnet and Modbus. With Izuma Edge, we can translate these devices into IP, so you can use the capabilities of the entire Izuma platform, including managing your devices with Izuma Device Management. Other features in Edge devices management include onboarding, secure gateway firmware update and updating of devices behind the gateway.
Edge systems management: Izuma Edge supports management of gateway hardware at the edge. This includes system monitoring and remote diagnostics; connectivity, firewall and network configuration; and secure updates. It allows remote logging, system statistics and OS configuration.
Edge applications (container orchestration): Izuma Edge hosts state-of-the-art Kubernetes management at the edge, so customers can easily deploy third-party applications. This leads to low latency, optimized bandwidth and reduced network overhead. Izuma Edge also supports offline operation, so containers continue to run, even when the cloud is unavailable or has low bandwidth.
What we offer
Izuma Edge is part of the Izuma platform, an end-to-end device management solution. This platform can solve your problems throughout the many steps of the device management journey. We can walk you through device onboarding and device connectivity and management, as well as data collection and management. We also offer commercial support to help debug and troubleshoot any issues you may face.
Recently updated documentation